Subdivision Plat Search
These plats are scanned images of the originals. If you are unable to read a plat, the original may be viewed at the County Recorder's Office at the Government Center on the 1st Floor. Please notify the Olmsted County Surveying Department of any errors or problems that you are having with these pages.

22" by 34" Hardcopies of these images can be purchased at Olmsted County Public Works Service Center - 1188 50th Street SE for $5.00.

Plat Books can be purchased for $35 plus tax at 2122 Campus Drive SE, Suite 200 or 1188 50th Street SE.
Please click on the following to see a list of Rochester city streets that have been changed from their original plat name.
Rochester City Street Conversions

Click on the letter below that begins the name of the Subdivision. If it begins with a number click on #.
Please note that we have combined images into one document. In other words, if a subdivision plat has several pages they will all be in one document, although they may be listed separately on the web page.
If you would like to search for a plat based upon the section and quarter, please enter the Township, Range, Section and Quarter Numbers as a single number.

For example: Rochester Township Range would be 64, section 02 and Quarter 4 so you would enter in 64024 in the TRSQ box below.
Here are the ranges for the townships in Olmsted County:
Cascade - 74
Dover - 61
Elmira - 51
Eyota - 62
Farmington - 83
Haverhill - 73
High Forest - 54
High Forest Panhandle - 44 and 45
Kalmar - 75
Marion - 63
New Haven - 85
Orion - 52
Oronoco - 84
Pleasant Grove - 53
Quincy - 71
Rochester - 64
Rock Dell - 55
Salem - 65
Viola - 72

Quarters in a section go counter clockwise.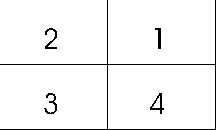 TRSQ